These Raven Skies Crowdfunding
Introducing These Raven Skies' Brand New Mystic Rock-Inspired Fall Album "Soul On Fire"

The time has FINALLY come to release our second full length album – SOUL ON FIRE and we can't even begin to express how stoked we are! It's taken a really long time to get down to the finishing touches on this album, but we think the wait will be worth it!
Funds raised from the campaign will help us promote and release Soul on Fire to the world. With your help, we can get there this fall and we really NEED your help!
If we don't hit our target, don't worry, because all of our backers will receive their bundles!
Not only will all backers get their exclusive limited edition bundles, but you'll also get your digital copy of the album at the end of the crowd-funding campaign! You're literally DAYS AWAY from hearing Soul on Fire in full!
Thanks for your support!
Exclusive Limited-Time Offer Ends In
🎸$10345 of $20,000 Raised 🎸
Thank you for your support!!!
More Album Details Below!

These Raven Skies have always been an album oriented band. The music industry has been dominated by single releases, but could you imagine a world without albums like The Rolling Stones Exile on Mainstreet or Nirvana Nevermind? Neither can we!
We just love the musical statement of capturing a moment in time of the band's life. There's something pretty special about getting lost in an album and we hope to pay homage to and maybe one day be considered in the same discussion as great bands and records like Led Zeppelin IV, Stone Temple Pilots Core, Metallica Metallica (black album), AC/DC Back in Black, Pink Floyd Dark Side of the Moon and The Tea Party The Edges of Twilight. The list goes on and on, but each of these albums is a work of art that takes you on a journey and we hope Soul on Fire does too!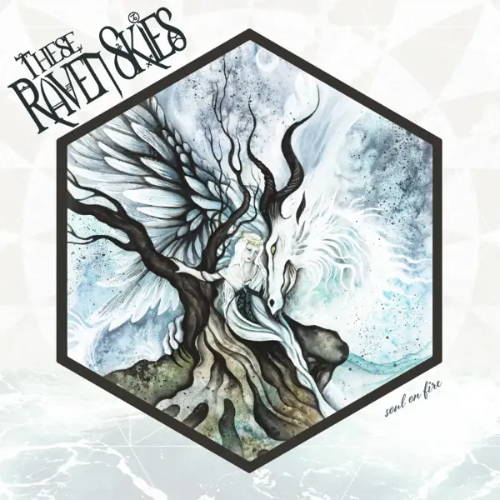 The Artwork is a pretty special piece, depicting imagery in the style of a Norse saga, created by the amazing French artist – Sjeska! We had already decided on a pretty cool final album cover, when Sjeska's portfolio came along. We knew immediately that we had to work with her on Soul on Fire. When we saw the new album art, we were absolutely blown away. The yin-yang, angel versus devil theme was so striking and it fit incredibly well with the light and shade vibe we went for musically on this album.
Way Down
Take Me Away
There's More To Us
Soul on Fire
Long Time Gone
Gypsy
Heaven Knows
Tell No Lies
Just Breathe
The Only

Don't take our word for it... here's others have to say...

"By removing the rules of we have to sound this way, they (These Raven Skies) have given themselves the freedom to create and be more imaginative in their style. This is refreshing and yet old-fashioned, as that is exactly what musicians were doing at the end of the 1960s and early 1970s. Certainly something that will engage people's attention…"

– Lisa Nash, Cryptic Rock Magazine

"Meet These Raven Skies! Watch out for this outstanding Canadian band on tour with the Rockstar UPROAR Festival this summer. Check them out in my Sixx Pick."

– Nikki Sixx, Sixx Sense Radio

"In terms of style, this is delicious Moroccanroll that should please fans of Alice in Chains and The Tea Party. In fact, Jeff Martin of the latter band is featured in three tracks. Inspired songwriting enhanced by clever textures makes this one of the best rock releases of the year".-

Canadian Music Blog

"And he (Jeff Martin) propels them into the big leagues. The album is a big, slick, classic rock record in every sense of the term, one that recalls everyone from Led Zeppelin and The Allman Brothers to Canadian acts such as Junkhouse and, yes, The Tea Party." – Mike Bell,

Calgary Herald.

These Raven Skies is a Canadian hard rock band that doesn't allow stringent genre boundaries to define its sound. Motley Crüe's Nikki Sixx immediately responded to TRS' first single "No Need to Worry", by declaring the band as one of his top Sixx Pix for 2014 and placing it into rotation on his Sixx Sense radio show.
The band spent most of 2014-2015 touring behind their critically acclaimed debut record, supporting some of the world's biggest names in hard rock, including: Godsmack, Seether, Chevelle, The Tea Party, Five Finger Death Punch, One Bad Son, Buckcherry, Scott Weiland, Rob Zombie, Theory of a Deadman, The Darkness and many more!
2020's Soul on Fire is expected to build upon their debut's international acclaim, which received support from press in the USA, Canada, UK, Germany, Austria, Italy, France and Australia!
For those about to rock – "we salute you"! TRS is back and better than ever!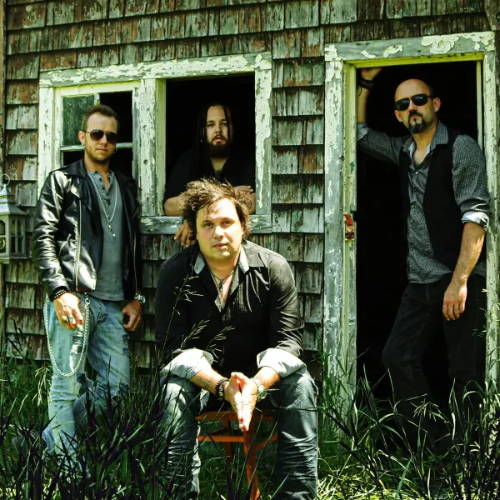 JB Mason - Vocals
Alex Whitcombe - Guitars
Shand Munro - Percussion
Trevor Landmark - Bass

When will my bundle ship?
Bundles will begin to ship out around Oct 1st, 2020. Digital items will be sent out immediately as soon as the campaign is over.
How long does shipping take?
Shipping time will vary depending where you live. All items will be shipped from Canada so please allow up to 1-3 weeks for them to arrive. Our goal is for you to have your order before the album is officialy released.
Vinyl will be shipped separately from other bundle items. There is a huge backlog right now in vinyl production and unfortunately this is out of our control. We hope to have the vinyl in your hands 2-3 months after the crowdfunding has ended, but you will be the first to receive vinyl copies of Soul on Fire! Don't worry we will keep you in the loop via email and let you know when they are shipped.
If the goal isn't reached, what happens?
If we do not reach our goal, we will still be producing and sending out your order, however, since we will have to make up the rest of the budget, there may be some delays. Don't worry we will keep you up to date every step of the way. Contact us anytime!
Exclusive Limited-Time Pre-Order Ends In...